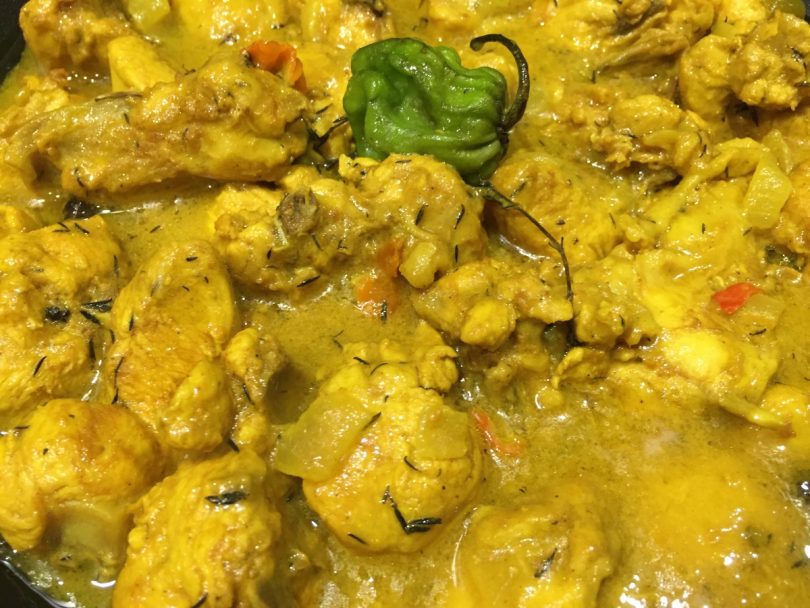 2 tablespoon curry
powder
2 medium onion, 5 sprigs thyme, 5 cloves crushed garlic, 2 scotch bonnet pepper, 1 teaspoon black pepper.
2 teaspoons salt to taste
lemon or lime juice
1 small diced potato (optional)
1 cup water
Get our recipes on your mobile phone. Buy our iPhone or Android Recipe App. Buy the cook book "Simple Jamaican Cooking". Looking for Jamaican recipe ingredients & seasoning Shop Now in our online store.


Clean, skin,and cut chicken
in small pieces,then wash with lime or lemon juice
Drain, season with curry
, onion, thyme, garlic, all spice (pimento), black peppers, salt and let marinate for awhile. TIP: Set as >chicken & seasoning
Lightly brown the chicken
& seasoning for 5-7 minutes in the skillet
Add water and scotch bonnet pepper. Let cook for 25 minutes or until done. TIP: Add the second seasoning 5 minutes before turning off the heat.
Serve over white rice